Gluten intolerance is a general term for adverse reactions to a protein called "gluten," which is found in wheat, barley and rye. Types of gluten intolerance include celiac disease, gluten sensitivity and wheat allergy.
Celiac disease
Celiac disease is a permanent (life-long) gluten intolerance. It is an autoimmune disease that occurs in genetically susceptible individuals. When people with celiac disease eat gluten, their body produces an immune response that attacks the small intestine. This immune response leads to damage of the villi, which are small finger-like projections that line the small intestine that help with nutrient absorption.
Celiac disease is treated with a life-long strict adherence to a gluten-free diet to prevent symptoms, intestinal damage and other issues that can arise from untreated celiac disease.
A celiac disease diagnosis is made by blood work and/or a procedure called an upper endoscopy. If you are concerned that your child may have celiac disease, your pediatrician can start with blood work, and then refer you to a pediatric gastroenterologist for further discussion and/or testing.
Please do not remove gluten from your child's diet prior to any blood work or testing.
Gluten sensitivity
Gluten sensitivity, sometimes called "non-celiac gluten sensitivity," typically does not have a negative impact on overall health like celiac disease can. The term describes a syndrome of symptoms that occur in response to eating gluten. People with gluten sensitivity have normal blood work and/or normal upper endoscopy and damage to the small intestine is unlikely.
The most common gluten sensitivity complaints can be similar to celiac disease, and may include abdominal pain, bloating and/or change in bowel patterns. However, some patients may complain of other symptoms as well. Symptoms typically occur within hours or a few days after eating gluten.
Some patients may actually have Irritable Bowel Syndrome instead of non-celiac gluten sensitivity, which can present similarly with abdominal pain, bloating and changes in bowel patterns. It is best to discuss your concerns with either your child's pediatrician and/or pediatric gastroenterologist for help with this. Unfortunately, no tests can reliably distinguish those with true non-celiac gluten sensitivity from those with Irritable Bowel Syndrome.
Both celiac disease and non-celiac gluten sensitivity are treated by not eating gluten. However, someone with celiac disease must avoid gluten completely for their entire life, whereas, a patient with suspected non-celiac gluten sensitivity may see symptom improvement by reducing gluten consumption in their diet.
Removing gluten from your child's diet if they do not have celiac disease will not provide any health benefits, other than possible symptom reduction, such as stomach pain. It is best to work with a registered dietitian for guidance with this, as some gluten free foods may lack particular vitamins and minerals.
Wheat allergy
A wheat allergy is an allergic response to the various proteins found in wheat, one of which is gluten. A child with a wheat allergy is likely to develop signs and symptoms within minutes to hours after eating something containing wheat. Symptoms can include rash, difficulty breathing, shortness of breath, coughing or wheezing, repeated vomiting, nausea and abdominal pain.
If you suspect your child has a wheat allergy, you should discuss it with your child's pediatrician or an allergist.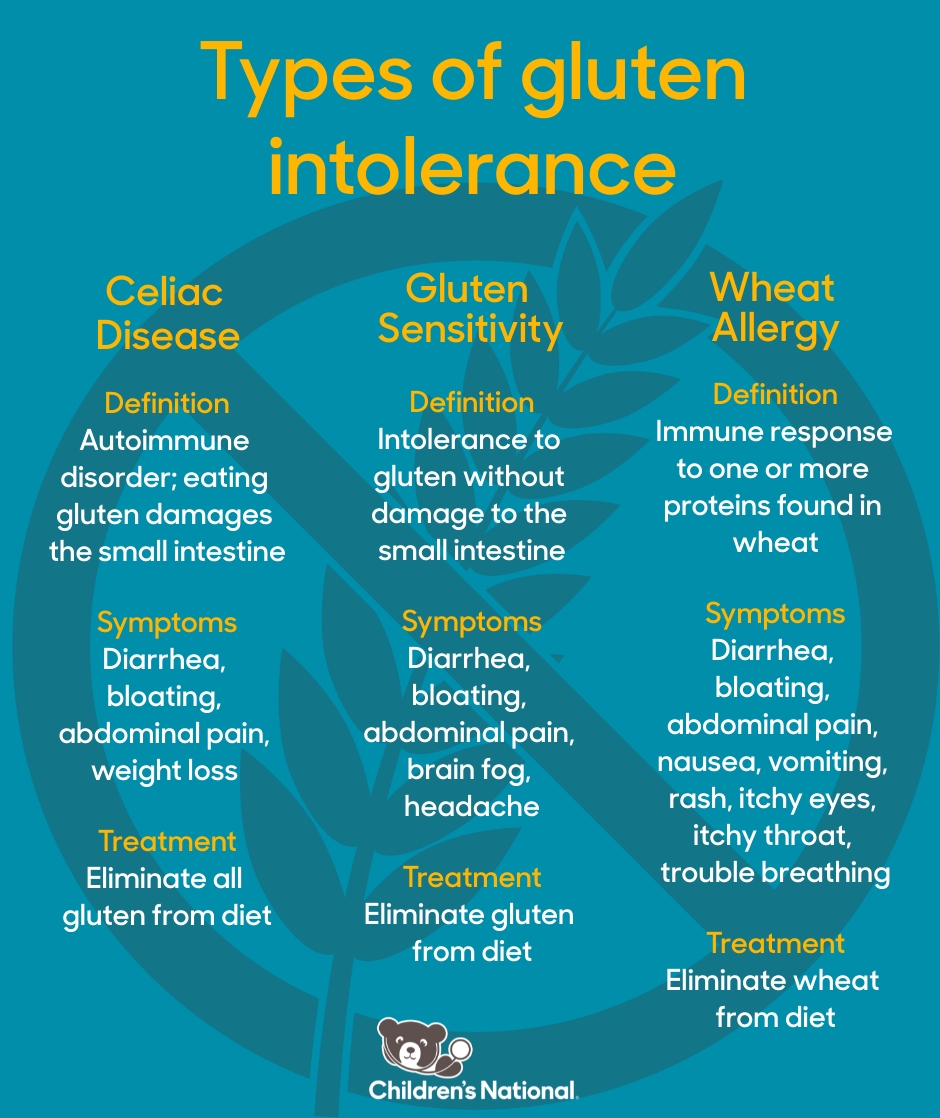 Download our gluten intolerance infographic here.
Subscribe to our newsletter and get free parenting tips delivered to your inbox every week!