Please note: As we continue to learn more about COVID-19, the information in this article may change. You can find our most up-to-date information about coronavirus here.
As we enter another pandemic spring, pollen counts are on the rise and the coronavirus continues to circulate in our communities. There is some overlap between seasonal allergy symptoms and COVID-19, so sometimes it can be hard to tell the difference! Here is a quick review of allergy symptoms versus COVID-19 symptoms.
Overlapping symptoms of allergies and COVID-19
The most common overlapping (meaning these can happen with allergies or COVID-19) symptoms of allergies and COVID-19 are:
Cough
Shortness of breath
Headache
Tiredness/fatigue
Sore throat
Runny or stuffy nose (this is less common in COVID-19)
Cough and shortness of breath happen less often with allergies unless the person has a history of asthma which can be triggered by pollen.
Allergy symptoms
Individuals with seasonal allergies frequently experience the following symptoms:
Sneezing
Itchy nose
Itchy and/or watery eyes
These symptoms are NOT associated with COVID-19, and generally get better with over-the-counter allergy medications (antihistamines) such as Zyrtec, Claritin or Allegra. Nasal corticosteroid sprays, such as Flonase, Nasonex or Nasacort are also often helpful for seasonal allergy symptoms.
COVID-19 symptoms
COVID-19 infection most often involves the following symptoms:
Fever/chills
Body aches
Loss of taste and/or smell
If any of these symptoms are present, your child should be kept home in quarantine as a precaution until a COVID-19 test can be arranged.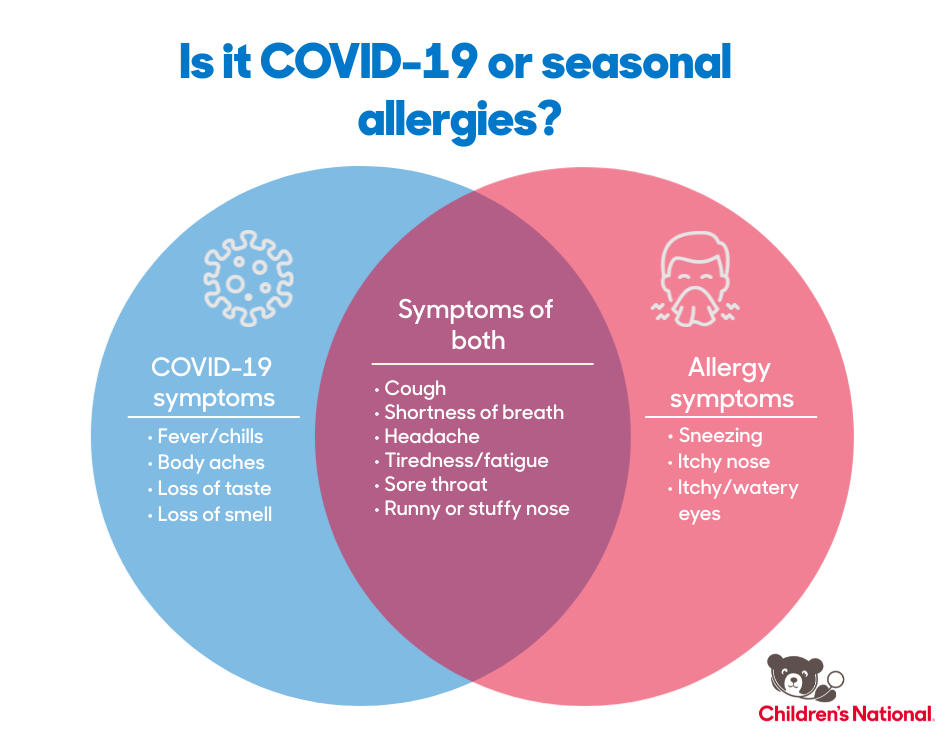 Download our COVID-19 versus seasonal allergies infographic here.
Subscribe to our newsletter and get free parenting tips delivered to your inbox every week!
Posts from Lisa Hiers, MSN, APRN, NP-C, AE-C