When is the last time you checked your medicine cabinet? If you're like most parents, it's probably been a while. It's important to remember to re-stock, declutter and update any expired medicine every six months. When your child is sick or hurt, the last thing you want to do is try to remember where the antibiotic ointment is or if the fever medicine is expired.
Medicine cabinet checklist for children
To prepare for minor childhood injuries as well as common illnesses that your child may get, consider stocking your first aid kit with the following items:
Medications
1% hydrocortisone cream
Antibiotic cream
Antihistamines (Zyrtec® or Benadryl®)
Cough and cold relief (for children 12 years and older)
Nasal saline drops or spray
Pain and fever reducers (ibuprofen or acetaminophen)
Pedialyte®
Petroleum jelly products (Vaseline® or Aquaphor®)
Sunscreen
First Aid Tools
Alcohol wipes
Bandages in a variety of sizes
Cotton balls/swabs
Eyewash cup for eye injuries
Gauze
Ice and heat packs
Small bottle with water for rinsing cuts
Self-adhesive wraps for minor sprains
Tweezers
Wipes and tissues
Other Tools
Medication dispenser (syringes or cups or droppers)
Nasal suction bulb or tube
Thermometer
Waterproof sickness bags or a reusable container
You should also stock items related to any medical conditions your family has, such as EpiPens and asthma inhalers.
Don't store children's medications directly next to adult versions. This will reduce the chances of someone accidentally grabbing the wrong package.
Don't forget a portable first aid kit
It's important to keep either a portable caddy or travel bag stocked with the first aid essentials listed above that you can just grab when going on vacation or a car trip.
It's also a good idea to keep basic emergency information stashed in your portable kit, such as:
A copy of your child's insurance information
Phone numbers (including the after-hours number) for your child's pediatrician and dentist
The Poison Control Hotline (800-222-1222)
Contact information and address of your closest emergency department or pediatric urgent care
Your child's current weight, for medication dosing
Keeping your medications up-to-date and safely stored away
Every six months, check for any expired medications and throw them out. Also make sure the medications you have on hand are appropriate for your children's weights and ages.
You can prolong the life of most medications by storing them at room temperature and away from moisture or humidity. Unfortunately, this means that your bathroom may be one of the worst places to keep a medicine cabinet. Instead, use a nearby linen closet, powder room or similar central location.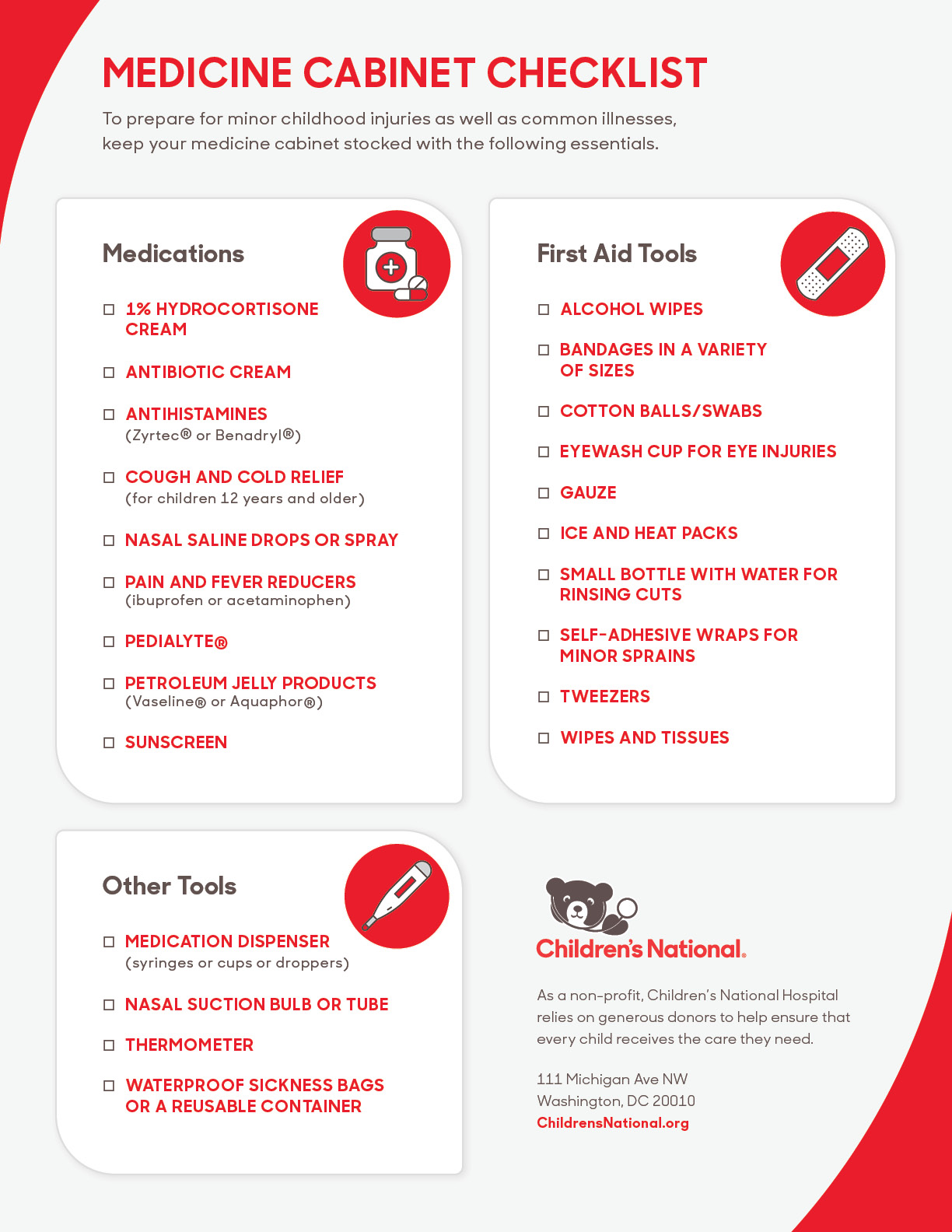 Download our medicine cabinet checklist here.
Subscribe to our newsletter and get free parenting tips delivered to your inbox every week!
Posts from H. Holly Kim, MD