Medications are the leading cause of child poisoning today. About 96 percent of medication-related poisoning visits to emergency rooms are the result of children ingesting medications while unsupervised, and approximately 5 percent are the result of caregiver dosing errors. The key to preventing your children from medication poisoning is to read the label before using the medication.
On every over-the-counter (OTC) drug package, you will find a "Drug Facts" label that is very similar to the "Nutrition Facts" box on the mixed nuts snacks you might have checked on! The drug facts give you lots of information about the medication, but you do not need to panic to get what you need. The following guide will help you read and understand OTC medication labels.
The U.S. Food and Drug Administration (FDA) requires a standard format for the Drug Facts section to help people easily compare and select OTC medications. Whether it is a stick of lip balm or a bottle of DayQuil, the following information must appear on the packaging:
The product's active ingredients
The amount of active ingredients in each dosage unit
The purpose of the product
The uses for the product
Specific warnings
Dosage instructions–when, how, and how often to take the product
The product's inactive ingredients
Let's take a closer look at the OTC label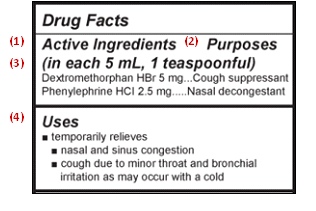 (1) Active Ingredients
Many OTC drugs contain more than one active ingredient, and each treats a specific symptom.
You might find one active ingredient in more than one OTC or prescription medication – DO NOT take more than one OTC or prescription medication containing the same active ingredient.
(2) Purposes
In this case, the drug is used to treat nasal and sinus congestion. .
Pick an OTC medication to treat the symptoms. For example, if the symptom is a cough, choose a cough medication. DO NOT choose a drug that treats many symptoms.
(3) The Dose Unit
In this case, the dose unit is one teaspoon, which is equal to 5 milliliters (mL). If a child is given a teaspoon of this medication, the dose taken is 5 milligrams (mg) of Dextromethorphan HBr and 2.5 mg of Phenylephrine HCI.
Be sure to measure with a spoon or dropper made for medications.
Do NOT use household spoons to measure drugs.
Be careful to avoid common mistakes, such as mistaking a teaspoon (tsp; 5ml) for a tablespoon (tbsp; 15ml).
(4) Uses
This section gives you detailed information about why you need this medication.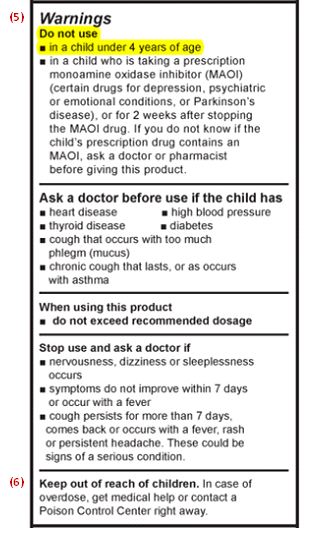 (5) Warnings
You MUST read and understand specific warnings about your OTC medication. These will tell you:
when the medication should not be used.
when you should consult with a doctor before use.
what side effects could occur.
if you should avoid specific drugs or alcohol.
if you should avoid certain activities, such as driving a car.
(6) ALL medications should be stored out of sight of reach of children
OTC medications are never "child-proof". Child-resistant closures are the last line of defense.
Poison specialists are available 24/7. Call right away if someone takes too much medication.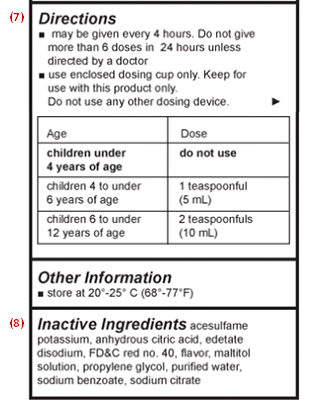 (7) Directions
This section tells you how and when your children should take the medication. In this case:
Children under 4 should not use the medication
Children ages 4-6 are given 1 dose (1 teaspoon; 5ml)
Children ages 6-12 are given 2 doses (2 teaspoons; 10ml)
Give no more than 6 doses in 24 hours.
(8) Inactive Ingredients
The medication contains inactive ingredients, so it is easy for kids to take.
It is possible that your child is allergic to certain inactive ingredients in the medication; some medications contain gelatin, egg, lactose, milk protein, gluten, latex, or soy oil, which are also considered inactive ingredients.
Coloring agents or preservatives are listed for those who may be allergic to them.
The label also tells you…
The expiration date, when applicable (date after which you should not use the product).
Lot or batch code (manufacturer information to help identify the product).
Name and address of manufacturer, packer, or distributor.
Net quantity of contents (how much of the product is in each package).
What to do if an overdose occurs.
What to do if your child is having a poisoning emergency
In the United States, Poison Control Centers provide 24/7 expert services that help you with a poisoning emergency. You should call them right away at 1-800-222-1222.
This is a national toll-free number that will connect you to the poison control center in your region where an expert will guide you. Help is available online with webPOISONCONTROL®. An app – webPOISONCONTROL® – is also available for iOS and Android download. You can contact Poison Control to learn about the dangers of any substance or product anytime.
Please have the following information ready when you contact the poison control center:
The age and weight of the child who has consumed poison.
The product and ingredients (keep the box or bottle with you when calling).
Any symptoms the poisoned child is experiencing.
The amount of the substance consumed.
Any medical history that may be useful to the poison expert.
You should call 911 right away if your child collapses, has a seizure, has trouble breathing, or cannot be awakened.
Subscribe to our newsletter and get free parenting tips delivered to your inbox every week!
Posts from Eric Manuel Balmir, BS, MS, PharmD, CIM