It's important to follow your pediatrician's instructions when giving your child prescription medication — every medication has specific instructions for safe use that should always be followed precisely. These instructions – which tell you how much medication to take and when to take it — can be found on the prescription bottle. Here is how to read a prescription label so you can give your child their medication safely.
A closer look at a prescription drug's label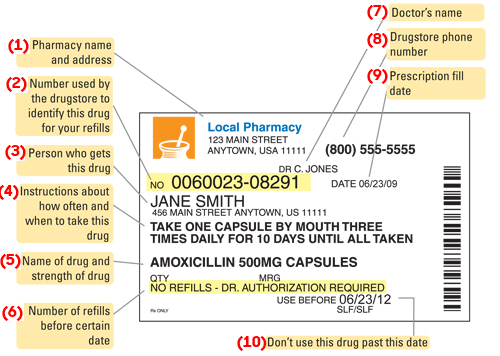 Pharmacy name, address and phone number
Prescription number

An Rx# or a prescription number is for the pharmacy to reference your specific prescription.
Your pharmacy will ask for this number when you request a refill.

Your child's name
Instructions on how to take the medication

Some things you might see here include:

"Take 4 times a day." Give the medication to your child four times during the day. For example, at breakfast, lunch, dinner and before bed.
"Take every 4 hours." Give the medication to your child every 4 hours. This adds up to six times in a 24-hour period. For example, 6:00 am, 10:00 am, 2:00 pm, 6:00 pm, 10:00 pm, and 2:00 am. Most medications do not have to be given at the exact time to work, but some do.
"Take as needed as symptoms persist." Give the medication to your child only when needed.
"Take with food." Give the medication to your child after a meal. This is for medications that work better when the stomach is full.

Name of medication

Make sure this matches what the doctor told you.
The strength of the medication may also be listed (for example, 500 mg capsules).

Number of refills allowed by your physician

QTY means "Quantity" or how much is in the package.
"No refills" or "0" means you need to call your child's doctor if you need more. The doctor may want to check your child before ordering more medication.
If your child will be taking the same medication for many months, the doctor may write the prescription for refills every 30 or 90 days. This allows you to get more medication without a new prescription from the doctor each time.
It is common for the doctor to send prescriptions electronically to your local or mail order pharmacy.
When you go to the pharmacy, always take your prescription insurance card with you.
Some insurance companies only cover certain brands or types of medications. If a medication is not covered, the pharmacy may call your child's doctor to change the medication brand/type.
The pharmacy may ask you to pay for part of any prescription each time you fill it. This is called a "co-pay."

 Your doctor's name

The person who ordered the medication.

Drugstore phone number
Date the prescription was filled
Expiration date

Expiration dates for medications are often marked "EXP."
Federal law requires that medications contain an expiration date. Both prescription and non-prescription medications are not tested to determine whether they are effective after their expiration date. The ingredients of the medication may have changed, so DO NOT give expired medication to your child.
Please read the next section for instructions on how to dispose of medication safely after its expiration date.

Special messages

The medication may have extra bright-colored labels with special messages, such as "Keep refrigerated," "Shake well before using," or "May cause drowsiness."
You should contact your child's doctor if you do not understand what they mean.
How to safely dispose of medication
Disposing unused medications properly is crucial. It prevents your children from taking it accidentally or intentionally and can also protect the environment and save lives.
Do not flush unused medications:

Flushing the unused medication down the toilet or drain can result in the residue end up in the soil, water or air. This can harm wildlife, aquatic life and us.

Drug take-back programs:

You can contact the drug take-back programs in your community. According to the U.S. Food and Drug Administration (FDA), there are two options — permanent collection sites and periodic take-back events.

Household disposal:

If you are not able to access a drug take-back program, you still can dispose of most medications in the household trash by following four simple steps:

MIX medications with an unpalatable substance such as dirt, cat litter, or used coffee grounds.
PLACE the mixture in a sealable plastic bag or sealed containers.
THROW the bag or container in your household trash.
SCRATCH OUT all personal information including the Rx number on the prescription label. Then, you dispose of the container as well.
What to do if your child is having a poisoning emergency
In the United States, Poison Control Centers provide 24/7 expert services that help you with a poisoning emergency. You should call them right away at 1-800-222-1222.
This is a national toll-free number that will connect you to the poison control center in your region where an expert will guide you. Help is available online with webPOISONCONTROL®. An app – webPOISONCONTROL® – is also available for iOS and Android download. You can contact Poison Control to learn about the dangers of any substance or product anytime.
Please have the following information ready when you contact the poison control center:
The age and weight of the child who has consumed poison.
The product and ingredients (keep the box or bottle with you when calling).
Any symptoms the poisoned child is experiencing.
The amount of the substance consumed.
Any medical history that may be useful to the poison expert.
You should call 911 right away if your child collapses, has a seizure, has trouble breathing or cannot be awakened.
Subscribe to our newsletter and get free parenting tips delivered to your inbox every week!
Posts from Eric Manuel Balmir, BS, MS, PharmD, CIM