With monkeypox all over the news lately, you may be wondering about your family's risk for contracting the virus. So far, the disease, which spreads through close contact, has been found mostly among adults. However, children can still contract the virus so it's good to be aware of the risk levels of certain activities.
What should I know about monkeypox as my child goes back to school?
Your child still has a low risk of contracting monkeypox, and unlike COVID-19 and flu, monkeypox is unlikely to be spread through brief accidental contacts or interactions. Parents should keep themselves educated about this virus and the rate of transmission. While there is potential for this virus to spread in places like daycares and schools, the risk of your child contracting it from those places is not high.
How can kids spread monkeypox?
There is some spread that happens when in contact with clothing or other objects that have been in direct contact with monkeypox lesions. Making sure that kids are only using items that belong to them is a good way to control the spread (for example, not sharing clothing, blankets, etc.).
Monkeypox risks from everyday activities
Because monkeypox is spread through skin-to-skin contact, a good precaution is to cover your arms and legs at crowded events. Another is not sharing water bottles or other personal items. Here's a breakdown of what your family's risk may be for certain activities.
High Risk
Direct contact with an infected person's rash, scabs or body fluids
Moderate Risk
Kissing
Cuddling
Attending a crowded indoor event where people are not fully clothed
Some Risk
Sharing drinks
Sharing a bed, towels or personal toiletry items
Attending a crowded indoor event with fully clothed people
Unlikely Risk
Attending an outdoor event with mostly clothed people
Trying on clothing at a store
Touching doorknobs, light switches or other surfaces
Traveling in an airport or on a plane
Swimming in a pool or other body of water
Riding public transit
Using public restrooms
Grocery shopping
Dining out
Going to the gym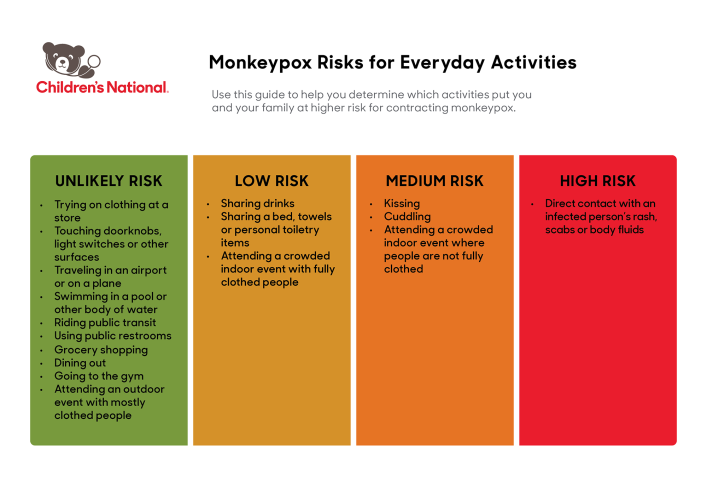 You can download a pdf of our Monkeypox Risks infographic here.
Subscribe to our newsletter and get free parenting tips delivered to your inbox every week!