Last week, the World Health Organization (WHO) declared the current monkeypox outbreak a public health emergency of international concern. While children aren't at high risk for contracting monkeypox, they are still susceptible to the virus, and in fact young children are at increased risk for more severe outcomes if they become infected. Here's what you need to know about monkeypox and how to protect your family.
What is monkeypox?
Monkeypox is a rare disease caused by the monkeypox virus. It is similar to smallpox, and is found mostly in areas of Africa, although cases have been popping up in other areas of the world. The virus got its name when it was discovered in lab monkeys, although the primary carriers of the monkeypox virus in the wild are rodents.
Monkeypox can be spread from infected humans, animals and materials contaminated with the virus. However, it is less transmissible and usually less severe than smallpox.
What are the symptoms of monkeypox?
Monkeypox causes flu-like symptoms such as fever and chills, as well as a rash. Symptoms are similar to those seen with smallpox, but milder; and monkeypox is rarely fatal.
Symptoms of monkeypox can include:
A rash that starts out as flat, red spots and then develops into pimples or blister-like fluid or pus-filled bumps on the face, inside the mouth, and on other parts of the body, such as the hands, feet, chest, arms, legs, genitals or anus.
Fever and/or chills
Headache
Swollen lymph nodes
Muscle aches
Exhaustion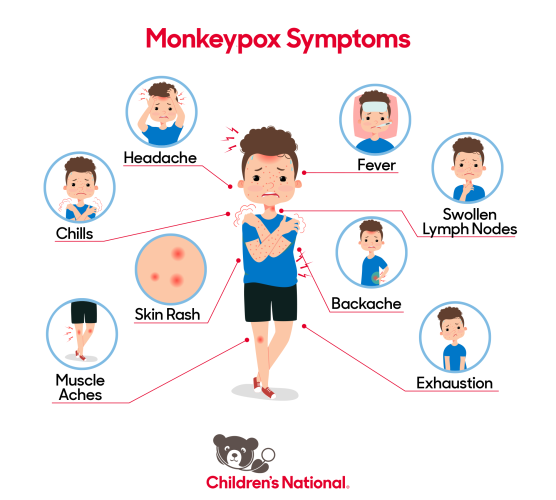 Download a pdf of our monkeypox symptoms infographic here.
How does monkeypox spread?
Monkeypox spreads from person to person through close contact, including:
Direct contact with the rash, scabs or body fluids of an infected person.
Through respiratory secretions during prolonged face-to-face contact, or during intimate physical contact, such as kissing, cuddling or sex.
Touching items (such as clothing or linens) that previously touched an infected person's rash or body fluids.
Pregnant people can spread the virus to their fetus through the placenta.
Monkeypox is contagious from the time symptoms start until the rash has fully healed and a fresh layer of skin has formed. The illness typically lasts 2-4 weeks. People who do not have symptoms cannot spread the virus.
How is monkeypox diagnosed?
If you or your child has a new or unexplained rash or other symptoms, contact your healthcare provider. Because monkeypox is rare, your healthcare provider will first check for other rash illnesses, such as molluscum, chickenpox or hand, foot, and mouth disease.
To diagnose monkeypox, your healthcare provider will take a tissue sample from an open sore and send it to a laboratory for testing. They may also take a blood sample to check for the monkeypox virus or antibodies against it.
Is there a vaccine for monkeypox?
At this time, two vaccines for monkeypox have been licensed by the U.S. Food and Drug Administration (FDA): JYNNEOS and ACAM2000.
JYNNEOS is licensed for adults 18 years and older and is administered as a two-dose series at least four weeks apart. People are considered fully vaccinated 2 weeks after receiving their second dose. It is a non-replicating virus vaccine, so it is safe to give to individuals who are immunocompromised, have skin conditions or are pregnant/nursing. In the United States, there is currently a limited supply of JYNNEOS, although more is expected in coming weeks and months.
ACAM2000 is a single dose vaccine, and people are considered fully vaccinated 4 weeks after receiving the vaccine. ACAM2000 is a live virus vaccine so it is recommended that ACAM2000 not be used in people who have some health conditions, including a weakened immune system, skin conditions like atopic dermatitis/eczema or pregnancy.
The Centers for Disease Control and Prevention (CDC) recommends that people who have been exposed to monkeypox be given the monkeypox vaccine to prevent them from developing the disease. This is called post-exposure prophylaxis, or PEP. PEP is most effective at preventing monkeypox if the vaccine is administered within 4 days of exposure. If given between 4–14 days after the date of exposure, vaccination may help reduce symptoms, but may not prevent the infection from developing.
Because there is a limited supply of monkeypox vaccines, the following at-risk populations are being prioritized for vaccination:
People who have a known exposure to monkeypox.
People who have a likely exposure to monkeypox, such as those who attended an event or venue where there was known monkeypox exposure.
Individuals at occupational risk of encountering monkeypox, including laboratory workers who perform monkeypox testing, and clinical and public health workers who collect monkeypox specimens.
Individuals at risk of exposure to monkeypox, including gay, bisexual, trans and other men who have sex with men.
Vaccination is currently being performed through local Departments of Health.
How is monkeypox treated?
Most people with monkeypox get better on their own without treatment. However, there are several anti-viral medications that have been approved for treatment of monkeypox, including tecovirimat (TPOXX).  If you or your child are diagnosed with monkeypox, your healthcare provider may decide that treatment with an anti-viral medication is necessary and will help coordinate access to this medication through the local Department of Health and/or CDC. Your healthcare provider will also monitor your condition and give you antibiotics, if necessary, to treat any secondary bacterial infections. Symptoms generally last from 2-4 weeks.
Over-the-counter medications that can help relieve symptoms include:
Pain relievers and fever reducers such as ibuprofen and acetaminophen.
Soaking in a warm bath with colloidal oatmeal to relieve the dry, itchy feeling that comes with skin rashes.
What is the recovery process like for monkeypox?
With monkeypox, the rash has to scab over, the scab has to fall off and you have to have new skin underneath before you are no longer contagious. That unfortunately means that you could have a period of two to four weeks where your child is contagious.
How can I protect my family from monkeypox?
Because monkeypox vaccine supply is currently limited and only available to those individuals with the highest level of risk for exposure, the best way to protect your family is to:
Avoid contact with bedding and other materials contaminated with the virus.
Wash your hands frequently with soap and water.
Avoid physical contact with people who may be infected with the virus.
Wear a mask that covers your mouth and nose when around others.
Clean and disinfect frequently touched surfaces.
Avoid contact with infected animals (especially sick or dead animals).
Fortunately, these are many of the same measures we have been using to help prevent the spread of COVID-19.
Subscribe to our newsletter and get free parenting tips delivered to your inbox every week!