We know caregivers are juggling so many priorities during these uncertain times: Teleworking, home schooling, handwashing, sanitizing, supervising children and so much more. It is challenging to stay focused on everything at once. The good news is there are a few precautions we can all take to keep kids who are out of daycare or school safer during, what can seem like, very long days.
Keep car doors and trunks locked and keep key fobs out of reach. Kids as young as 2 or 3 are known to climb into unlocked cars and trunks to play, but they can't always get out. Locking your car doors and reminding your neighbors to do the same provides an important level of protection. It is one less thing to worry about. If, for some reason, you cannot find a child you thought was just outside playing, check cars, trunks and pools first.
If you do have to drive, walk all the way around your parked car to check for children. We're all trying to limit travel and exposure to the virus but if you have to run out for a quick errand, remember that kids play everywhere, including behind cars. Taking a few seconds to double check can make a big difference.
Slow down and avoid distractions. Other drivers, like you, are stressed, anxious and distracted so be extra alert during these times especially in neighborhoods. Kids can dart behind cars and into streets in unpredictable ways. Be ready!
This blog post was originally from Safe Kids Worldwide.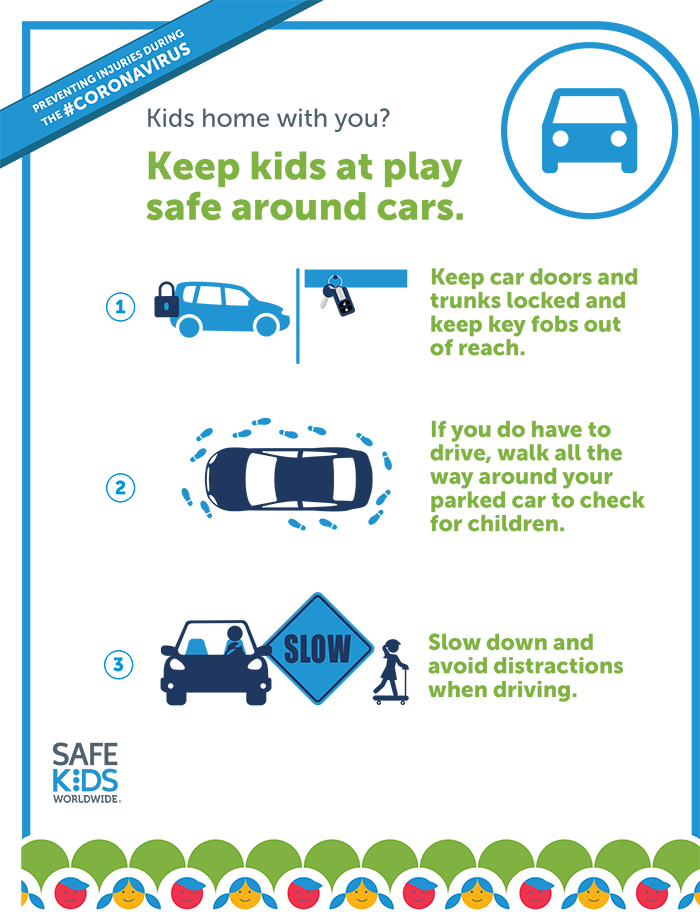 Subscribe to our newsletter and get free parenting tips delivered to your inbox every week!