A new study published in the scientific journal JAMA Network Open found that, contrary to widespread belief, rest may not always be best after a concussion. In fact, sending kids back to school rather than isolating and resting may be a better way to help them recover faster from a concussion.
A concussion is a type of mild traumatic brain injury (TBI) that happens when there is a blow, bump or jolt to the head that makes the brain move back and forth with a lot of force. This can result in an injury directly to the brain.
The study looked at 1,600 youth, ages 5-18, who were recovering from concussions. It found that an early return to school — in two days or fewer — was associated with fewer symptoms 14 days after their injury.
The current guidelines recommend children get 24 to 48 hours of rest after a concussion. Then they should be eased into activities with a gradual return to school.
"We know that absence from school can be detrimental to youth in many ways and for many reasons," says Christopher Vaughan, PsyD, neuropsychologist at Children's National Hospital and the study's lead author. "The results of this study found that, in general, an earlier return to school after a concussion was associated with better outcomes. This helps us feel reassured that returning to some normal activities after a concussion – like going to school – is ultimately beneficial."
"Clinicians can now confidently inform families that missing at least some school after a concussion is common, often between 2 and 5 days, with older kids typically missing more school," Dr. Vaughan says. "But the earlier a child can return to school with good symptom management strategies and with appropriate academic supports, the better that we think that their recovery will be."
While treatment methods are changing, identification methods remain the same. Concussion symptoms can develop on impact or up to 48 hours (about 2 days) after the incident. There are multiple symptoms to monitor to see if a child is developing a concussion including, but not limited to: headaches, nausea, balance problems and dizziness. The key is to remain vigilant. Any symptom or change in functioning after a child hits their head should result in immediate removal from play, and an appropriate medical evaluation by a qualified healthcare provider.
Of course, the best way to deal with concussions is to avoid them.
Additional resources
The SCORE concussion program is currently seeking children between the ages of 11 to 18 diagnosed with a concussion in the past month to participate in a study to better understand risk factors for prolonged recovery after concussion.  If you and your child would like to find out more about our research, please send an email to our study team at: Care4Kids@childrensnational.org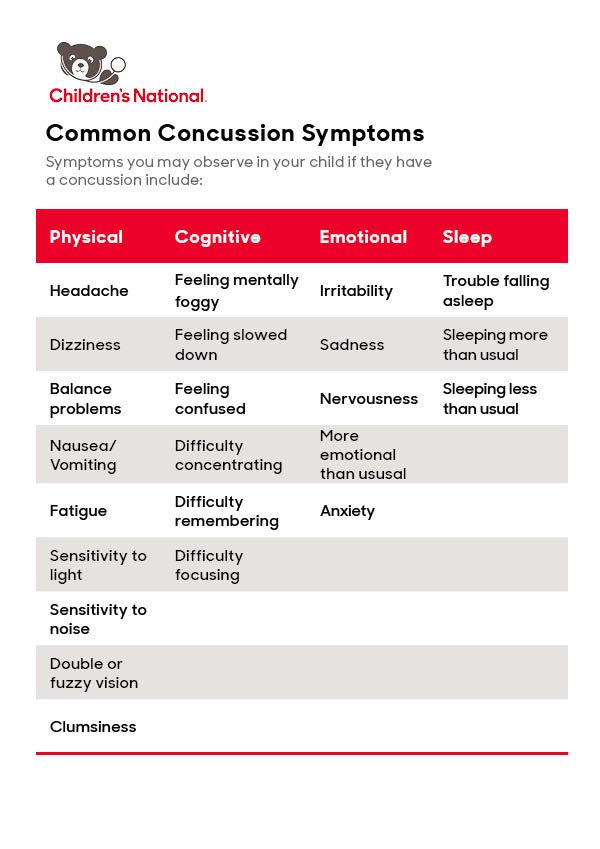 You can download our chart of concussion symptoms here.
Subscribe to our newsletter and get free parenting tips delivered to your inbox every week!
Posts from Christopher G. Vaughan, PsyD