This article was updated on 1/6/22.
Please note: As we continue to learn more about COVID-19, the information in this article may change. You can find our most up-to-date information about coronavirus here.
The Centers for Disease Control and Prevention (CDC) and the U.S. Food and Drug Administration (FDA) have now authorized booster shots of all three COVID-19 vaccines. We've been getting a lot of questions about children and COVID-19 boosters, so we've compiled some answers to your frequently asked questions.
What is a booster shot?
A booster shot refers to an extra dose of a vaccine after the original series of shots has been given. It can be given months or years later. This is common for many vaccines, including influenza (flu), and is now also recommended for the COVID-19 vaccine.
The effectiveness of the COVID-19 vaccine can wane after several months, so the booster shot amplifies your immune response to the COVID-19 virus, increasing your protection against COVID-19 infection, hospitalization and death.
Who is eligible for a COVID-19 booster shot?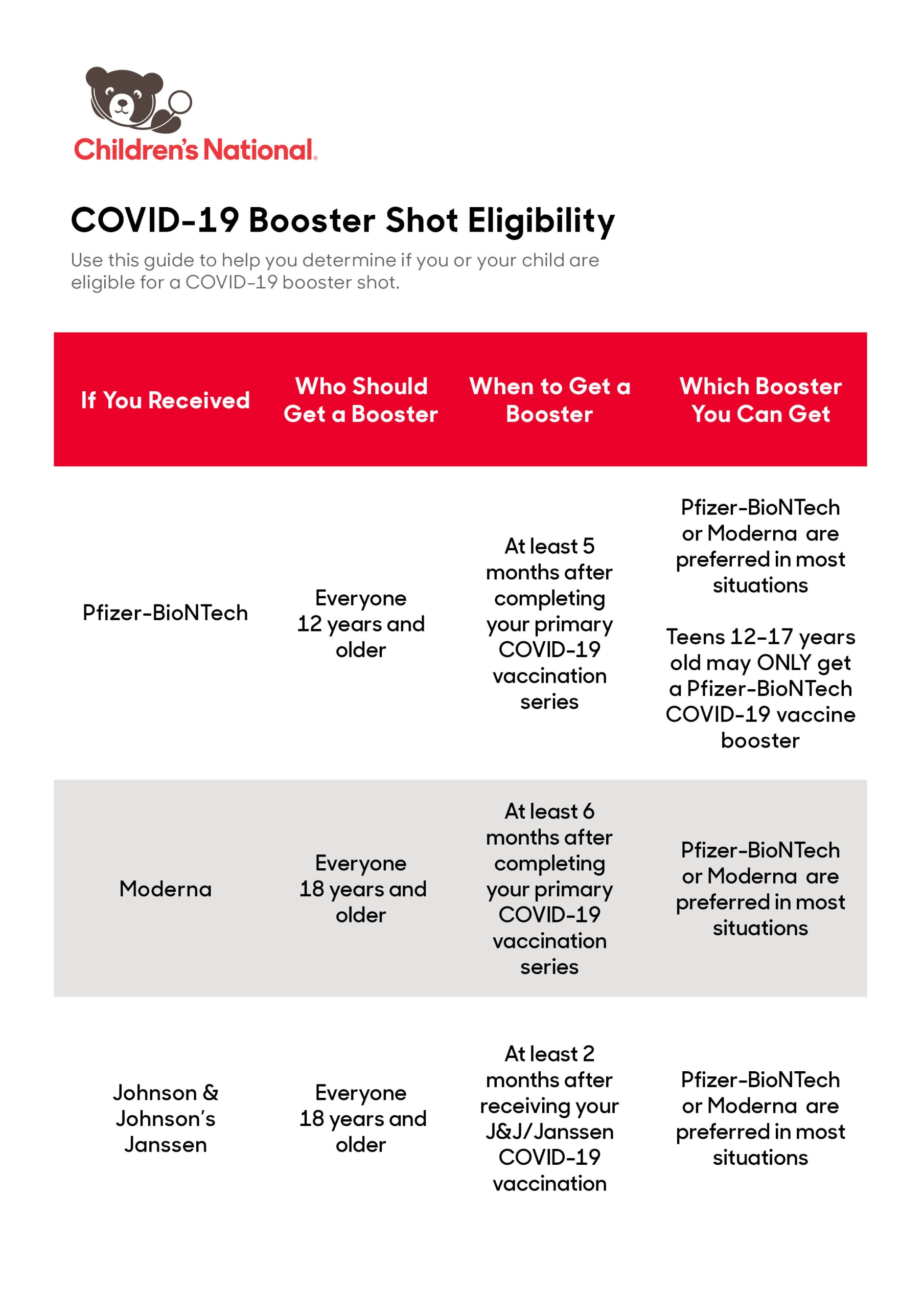 What is the difference between a booster and an additional dose?
A booster shot refers to an extra dose of a vaccine given after the original series of shots. An additional dose is given to people with compromised immune systems, and it helps the build the same level of immunity as people who are not immunocompromised.
Will younger children eventually need booster shots too?
Researchers are still studying whether or not immunity wears off in children over time. We should know the answer to this question in early 2022.
If my child is eligible, should they get a COVID-19 booster shot?
Yes. While your child's original vaccine continues to protect them against severe illness and death, it will wear off a bit over time. A booster shot provides extra protection against COVID-19.
Are COVID-19 booster shots different from the original vaccines?
The Pfizer and Johnson & Johnson boosters are the same as their original shots, while the Moderna booster is half of the original dosage.
What side effects can I expect from a COVID booster shot?
You can expect similar side effects to the ones experienced with your initial COVID vaccine. These include soreness in the arm that received the injection, fatigue, chills, fever, headache and muscle and joint pains.
Is it okay to get a booster dose of a different vaccine than the one you originally received?
Yes, boosters can be mixed. If you received Pfizer, Moderna or Johnson & Johnson for your initial vaccine series, you can receive any available COVID-19 booster shot – it does not have to match the brand you received for your first vaccine, though you will get the best protection if you are boosted with a Pfizer or Moderna vaccine. However, if you are 12 to 17 years old and received the Pfizer vaccine you are only eligible for a Pfizer booster.
Will a booster protect me from the omicron coronavirus variant?
Public health and medical professionals worldwide are rushing to learn more about the omicron variant. What we do know is that the booster shot amplifies your immune response to the COVID-19 virus, giving you the best chance of fighting off variants of COVID-19.
Subscribe to our newsletter and get free parenting tips delivered to your inbox every week!