Thanks to technology, we've been able to continue many of our daily activities – including going to the doctor – during the coronavirus (COVID-19) pandemic. Virtual doctor's visits, or telehealth, allow you and your kids to see doctors from the comfort and safety of your own home. Since many of us will be using telehealth for the first time in the coming months, we've compiled some tips to help you prepare for your kid's virtual visit.
A telehealth visit isn't just a phone call – it uses video too, similar to FaceTime or Skype.
In order to participate in a telehealth visit, you'll need a smart phone, tablet or computer with a camera and microphone. Be sure you have good internet service too!
Have a list of symptoms, questions or other important items ready to discuss with your doctor before you start your virtual visit.
Use a quiet, well-lit room or area during your visit so your doctor can see and hear you clearly.
Have a book or toy for your child to play with during the visit, so you can focus on conversations with the doctor.
Once the visit begins, the doctor will want information about your primary concerns and will want to see your child on the screen. He or she will probably ask questions about your child's medical history and then conduct a virtual examination and assessment. Finally, the doctor will decide on next steps.
Before the visit ends, make sure you understand your doctor's diagnosis, instructions, advice and the next steps you should take, if any.
Remember, not all concerns are appropriate for telemedicine. Sore throats, rashes, colds, vomiting and diarrhea can be assessed through a virtual doctor's visit, but other conditions like fractures, bleeding and trauma and chest pain should be seen by a doctor in person.
Be sure to show your child our Kid's guide to telehealth visits video so they're prepared for their visit too!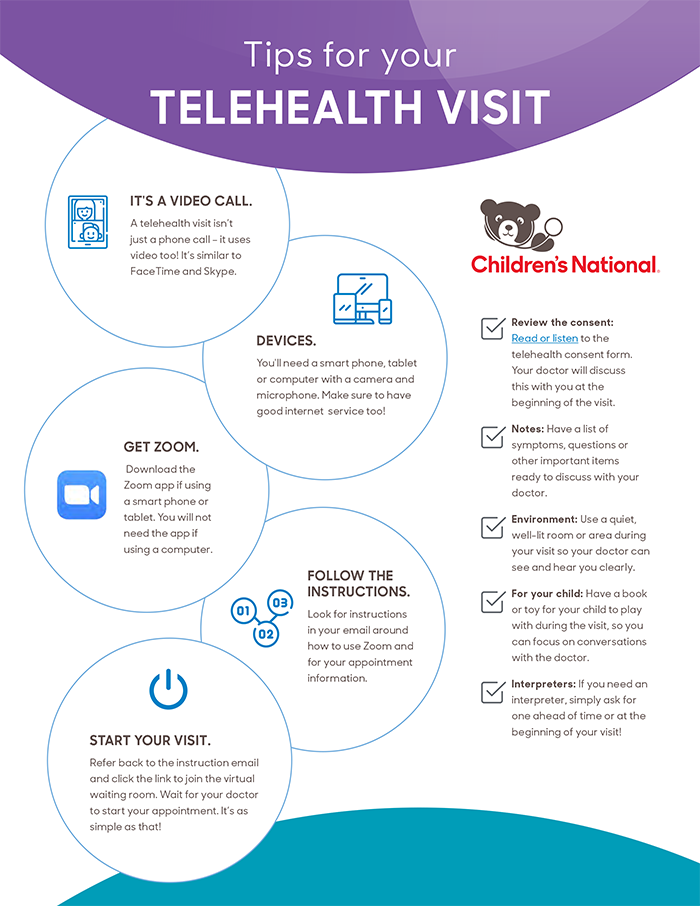 Subscribe to our newsletter and get free parenting tips delivered to your inbox every week!