NOTE: Due to the evolving nature of the COVID-19 pandemic, some information in this article may be outdated. Please see our most recent COVID-19 Halloween safety article for the most up-to-date information. 
Halloween is just around the corner and many families are wondering if it's safe to celebrate this year. Unfortunately, there's no simple yes or no answer. It all depends on what you plan on doing, what your local and state coronavirus (COVID-19) levels are and what your family's risk tolerance is. To help you decide how to celebrate, we asked Dr. Sarah Schaffer DeRoo to answer a few questions about Halloween during the COVID-19 pandemic.
Is it safe for children and families to go out as usual on Halloween?
Unfortunately, no. Modifications will likely need to be made to the "usual" Halloween activities:
Parties should be avoided.
Masks should be worn by all and can be incorporated into costumes to add to the fun.
Hand sanitizer should be carried and its use by children monitored by parents.
Social distancing measures should be followed.
Your personal risk will depend on local COVID-19 rates, individual risk factors (such as underlying medical conditions) and how well your community adheres to preventative strategies.
How can families manage the risk of COVID-19 in their neighborhood?
As above, families should follow COVID-19 precautions, adhering to social distancing recommendations, masking and maintaining good hand hygiene. A great resource is the CDC's interactive map with recommendations for activities depending on local risk. Ultimately, every family should weigh their own individual risk factors and risk tolerance.
Safe versus unsafe Halloween activities
The graphic below from debeaumont.org identifies activities that are safe (celebrating at home), less safe (careful trick-or-treating) and unsafe (big crowds). This is not intended to be a comprehensive guide for a safe Halloween: You should review the CDC guidelines, follow the advice of your local health department and talk to other families to see how they plan to balance fun and safety.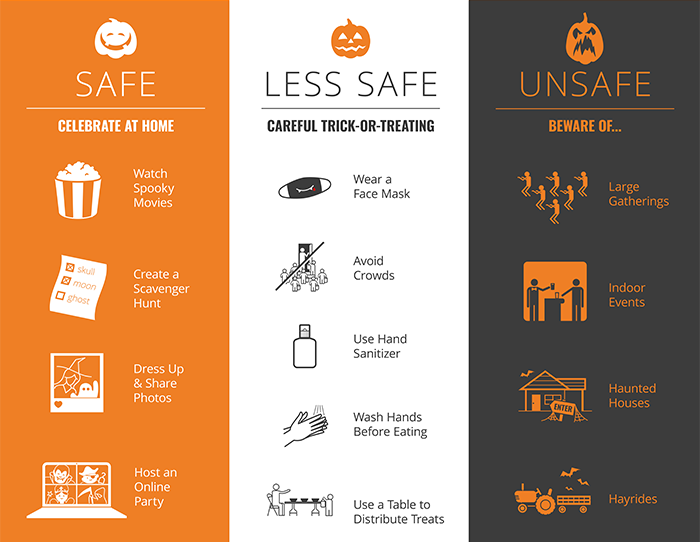 Subscribe to our newsletter and get free parenting tips delivered to your inbox every week!
Posts from Sarah Schaffer DeRoo, MD