One of the most common questions parents have is when to take their child to the emergency department versus when to take them to urgent care or their pediatrician. Here, we explain the difference between a medical emergency and medical urgency and give advice on when to go to the emergency department.
When to go to the emergency department
Most emergency departments are packed with people who don't need to be there. Why? Sometimes it's convenience. Sometimes it's because people can't get in to see their own doctors. And sometimes it's because they're not sure where to go.
Emergency departments are for medical emergencies – immediate threats to life and limb. In other words, any condition that, if not treated immediately, could result in death or disability. Some examples include:
Difficulty breathing
Severe vomiting
Toxic ingestion/poisoning
Loss of consciousness
Sudden onset of severe headache
Broken bones
Major cuts or burns
Active suicidal thoughts
If your child is experiencing a true medical emergency, get them to the nearest emergency department as quickly and safely as possible.
When to go to urgent care
Medical conditions that require urgent care are common, and many emergency departments have an urgent care within the department to handle medical urgencies.
When we think about traumatic injuries, broken bones need urgent evaluation and care.  Sometimes these can be emergencies – some need surgeries to correct, but the majority can be splinted in urgent care settings to follow up with orthopedics at a later date. Other conditions that can be handled in urgent care include:
Allergic reactions
Severe cough
Belly pain
Simple fractures
Sprains and strains
Minor cuts or burns
Skin infections
Vomiting and/or diarrhea
Major flu-like symptoms
Don't forget your pediatrician!
Don't forget about your own pediatrician in these situations. Your pediatrician may be able to work you in for a sick visit that day, or direct you to the most appropriate place for care.
Pediatricians can easily diagnose colds, flu, strep, fevers, ear infections, vomiting, diarrhea, and many other conditions including:
Colds, coughs, and fevers
Sore throat
Ear infection
Seasonal allergies
Rashes
Behavioral concerns
Vaccinations
Medication refills
Signed school notes
Also, don't forget to ask your doctor at your regular checkups where you should go for urgent care and emergencies.  Knowing the places to go ahead of time can be very helpful!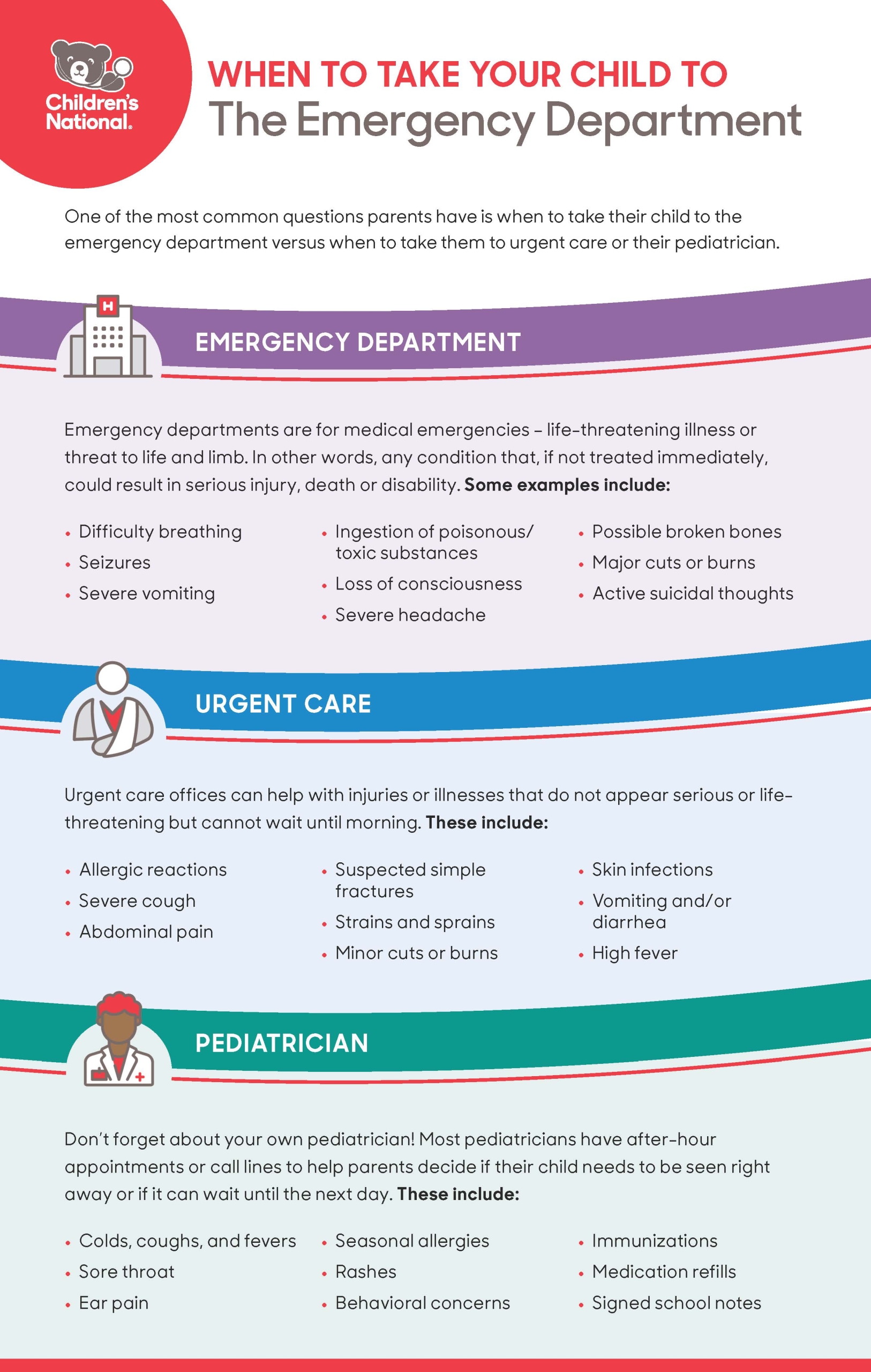 Download our When to Take Your Child to the Emergency Department infographic here.
Subscribe to our newsletter and get free parenting tips delivered to your inbox every week!